2017.03.27
NTT Comware Hires Kai Kurokawa, Beach Volleyball Player
NTT Comware (Head office: Minato-ku, Tokyo, President: Shinobu Umino, hereinafter NTT Comware) hired Kai Kurokawa, a beach volleyball player, through "ATHNAVI" , the top athlete's employment assistance service provided by the Japan Olympic Committee (hereinafter, JOC). NTT Comware aims to promote sports by supporting sports-oriented employees with great potential such as Kai Kurokawa, as well as team building through supporting sports.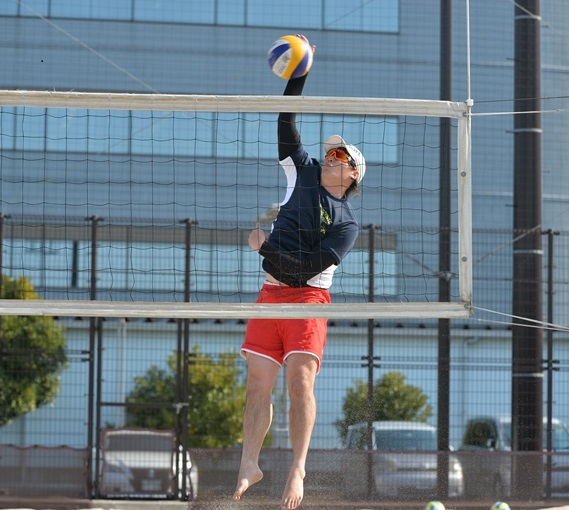 [Profile: Kai Kurokawa]
Name : Kai Kurokawa
Born : Kyoto City, Kyoto Prefecture
Graduated : Kokushikan University
Major achievements : 2016 All Japan Intercollegiate Beach Volleyball Championship finalist
            2015 All Japan Intercollegiate Beach Volleyball Championship winner
            2014 All Japan Intercollegiate Beach Volleyball Championship winner
Date of birth : November 20, 1994 (Age 22)

[Comment from Kai Kurokawa]
I am pleased to be a staff member of NTT Comware through JOC ATHNAVI.
I would to thank all of those who organized this for me so I can focus on playing beach volleyball. I am determined to work hard toward the 2020 Tokyo Olympics.
As a beach volleyball player, a member of NTT Comware and a working member of society, I will act in a fully responsible manner and do my best toward the goal of being a player who is admired as well as to be a role model for children.
[About ATHNAVI]
"ATHNAVI" is one of the activities of JOC with the objective to create a Win-Win solution for top athletes who wish to have support from business, and companies as their employers in order to secure the living environment of top athletes to remain competitive with peace of mind. This activity aims to achieve mutual understanding between companies and top athletes through various opportunities to communicate in order to realize a beneficial environment for both parties.

* ATHNAVI is a registered trademark of JOC.