2017.11.08
Hikari BOX
+

(HB-2000) Connecting to Amazon Echo
-- Voice Commands for Hikari BOX

+

from Smart Speaker --

Nippon Telegraph and Telephone WestCorporation (Head office: Osaka-shi, Osaka; President: Kazutoshi Murao, hereinafter, NTT West) and NTT Comware Corporation (Head office: Minato-ku, Tokyo; President: Satoshi Kurishima, hereinafter, NTT Comware) release the new Movie HD app*1for "Hikari BOX+(HB-2000)*2 (hereinafter, Hikari BOX+) available since April 4, 2016. The app is for "Amazon Echo*3 (hereinafter, Echo)", the newly released smart speaker from Amazon.com Incorporated (Head office: Meguro-ku, Tokyo, hereinafter, Amazon).
This service is for the Movie HD app on Hikari BOX+ to enable hands-free operation with voice commands. Users only talk to "Amazon Alexa*4(hereinafter, Alexa)" compatible devices such as Echo, which makes the YouTube movie experience easier.

1.Background
NTT West's Hikari BOX+ provides online content on TV including websites, movies and games to realize a smart Hikari lifestyle for an "easy, convenient, and comfortable" life with the Internet. Along with this concept, NTT Comware provides Hikari BOX+ (EMS version)*5 that helps visualization of electricity usage at home and remote control of home appliances such as air conditioners.
After the services started, we found the potential of the popular Hikari BOX+ to be more efficient by combining voice UI, such as smart speakers, and continued studies on the "Movie HD App" and "Smart Home Appliances App*6", two of the popular functions among Hikari BOX+ apps.

2.Feature of the Service
Before the service, the remote controller of Hikari BOX+ was necessary to watch YouTube content with Hikari BOX+. The Alexa-compatible device such as Echo now enables hands-free control to make the YouTube experience much easier. The only thing to do is to talk to the device.
For instance, if you make a voice command to an Alexa-compatible device such as Echo, "Alexa, I want to see the movies of NTT West using Hikari BOX", the Hikari BOX+ is activated to automatically start the YouTube movies related to the predetermined keywords (e.g., NTT West)*7 on TV. The voice commands also support various operations such as keyword search, pause, full screen display, and end of the Movie HD app.

[Example of Voice Commands]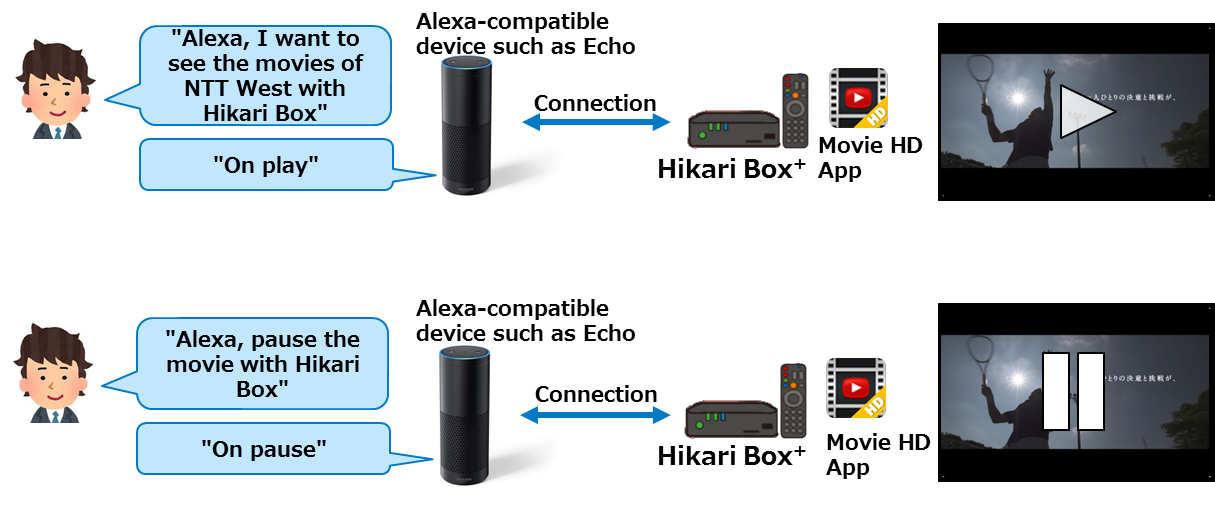 Hikari BOX+(EMS version) will also support Echo to allow various functions including that to control room lights to turn on and off from Alexa-compatible devices through the smart home electronics apps.
3.Schedule and Fee
(1)Service Start
The services will start immediately after Amazon's Echo is available for Japanese customers.

(2)Fee
Movie HD application is available for free.
* Hikari BOX+ and Alexa-compatible devices such as Echo are not included in the service.
* Hikari BOX+ and Alexa-compatible devices such as Echo need to be provided on the customer side.
* For the Internet connection with Hikari BOX+, separate services are required such as the FTTH access service for Flets Hikari, providers and fees and wireless routers. A television with HDMI terminals is required for this service. See the NTT West website HP for further information.(http://www.ntt-west.co.jp/kiki/hikaribox/hb-2000/)

(3)How to Use
The video HD application are available on "Hikari Apps Market" the Hikari BOX+ special apps service website.
* The latest version must be used for the Movie HD App.
* For control of the Movie HD app from Echo, "Audio UI Setting App" (free) is also required. The app will be available for download from "Hikari Apps Market" after Amazon Echo is released in Japan.

4.Roles of Each Company
(1)NTT West
Provide the Movie HD App compatible with the audio UI on Hikari BOX+ (HB-2000)
Search for potential alliance partners

(2)NTT Comware
Provide smart home appliances compatible with audio UI on Hikari BOX+(EMS version) (currently planned)
Search for potential alliance partners


5.Future Scenario
For upgrading the attractive features of Hikari BOX+, we will further promote new services including new apps for Echo and other devices, as well as an audio UI support to control Alexa with Hikari BOX+ without Echo. In addition, we will create new user experiences to link the audio and movies on TV using Alexa-compatible devices such as Echo and Hikari BOX+ pre-loaded applications, through stronger alliances with our business operators.
New user experiences will be widely expanded not only for home but also for offices (e.g., a combination of smart speakers and inhouse systems/services).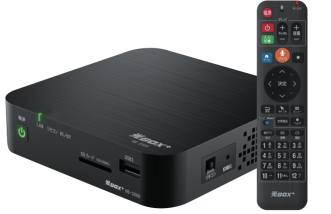 (Reference) Outline of Hikari BOX
+
Hikari BOX+ provides enjoyable user experiences to realize online contents on TV, as well as other applications such as movies, dramas and games using IoT STB
*8
to make your TV "Smart TV" at home. The device also supports function customization by alliance partners, and contributes to providing original services of alliance partners by linking the box with various sensors and devices.
(
http://www.ntt-west.co.jp/kiki/hikaribox/hb-2000/
)