2018.02.20
Business Alliance with UBiqube and New Soluton "SmartCloud® Orchestrator"
NTT Comware Corporation (Head office: Minato-ku, Tokyo, President: Satoshi Kurishima, hereinafter NTT Comware) forms a partnership with UBiqube Ltd. (Head office: Dublin, Ireland, President: Nabil Souli, hereinafter UBiqube) to launch a new infrastructure orchestration*1 service for corporate customers' enterprise systems to help make IT operations more efficient and enhance customer competitiveness.
1.Background
With the current diversification trend of ICT usage due to digital transformation, the IT infrastructure of enterprise systems is becoming more complicated. This is a challenge in operation management. As a solution, NTT Comware has launched sales of "SmartCloud® Orchestrator" for corporate customers in a partnership with UBiqube Corporation, providing the orchestration software to realize both integration and automation of the operation process for IT infrastructure operation work efficiency.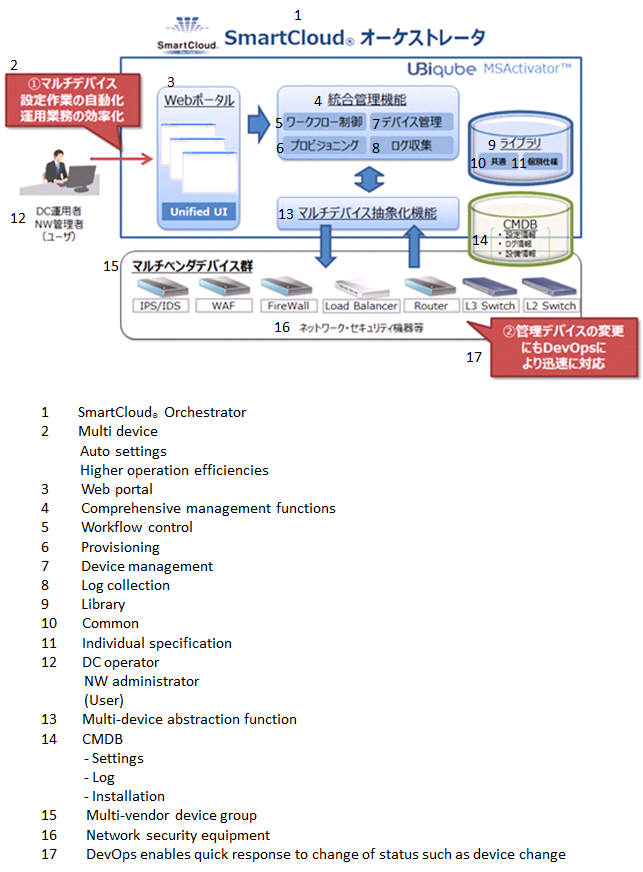 2.Outline of Partnership/Services
"SmartCloud® Orchestrator" simplifies work automation by converting various settings into a workflow for various kinds of network devices, security appliances, virtual servers, etc., which simplifies the tasks and reduces the man-hours for operators.
This service is based on the orchestration software "MSActivator" provided by UBiqube. The main feature of "MSActivator" is an abstraction layer that integrates different APIs for each device, allowing a flexible response to additional changes of devices without changing the upper orchestration layers.

NTT Comware has already realized the automatic operation of network equipment and security equipment under a multi-vendor environment in its own cloud service with "MSActivator". Highly skilled NTT Comware engineers help the customers to apply "SmartCloud® Orchestrator "to be implemented quickly by using the DevOps framework".
"SmartCloud® Orchestrator" provides not only an SI-type solution to customer IT infrastructure environments and cloud-type outsourcing for all operation services, but also consulting services to support the introduction of an orchestrator.
3.Sales start date
February 20, 2018 (Tue)
4.Message from Nabil Souli, UBiqube CEO
NTT Comware, as a carrier network integrator and IT integrator, is an excellent strategic partner for UBiqube and will significantly accelerate expansion of the market for service orchestration software. We believe that this partnership will be beneficial in improving the speed of innovation in the network and security industry to bring about a massive paradigm change accompanying IoT evolution. Integrated operation management task automation will be promoted for various fields from WAN to LAN, from network to security, as well as various other equipment.
5.Future Scenario
NTT Comware starts the sales of "SmartCloud® Orchestrator" to dramatically streamline IT infrastructure operation for enterprises. We will also integrate with "SmartPIER®", an IT operation management service, to further enhance integrated operation services. NTT Comware, as a "Fundamental Operator", will continue to contribute to customers in cost reduction of infrastructure management tasks and rapid business innovation.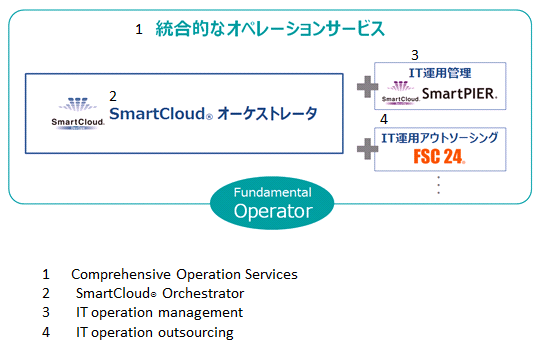 6.About UBiqube
UBiqube is a global leading company that provides orchestration software for a wide range of network equipment and security equipment for service providers and corporate hybrid communication infrastructure (legacy, SDN/NFV/IoT) without depending on a specific vendor. See "http://www.ubiqube.com" for further information.



[Terminology]

*"SmartCloud", "SmartCloud" logo, "SmartPIER " and "FSC 24" are registered trademarks of NTT Comware Corporation.
*"MSActivator" is a trademark or registered trademark of UBIQUBE SOLUTIONS.
*Other company names, product names and service names are trademarks or registered trademarks of each company.