2018.03.27
Release of New AI Platform for Businesses
-- AI and chatbots to improve work efficiency and realize higher productivity --
NTT Comware Corporation (Head office: Minato-ku, Tokyo, President: Satoshi Kurishima, hereinafter NTT Comware) launches "Smart AI Platform for Businesses"*1 on May 1, 2018. This platform is to provide virtual business support via chatbots.
"Smart AI Platform for Businesses" aims to help business teams perform their tasks in a precise and concise manner by providing virtual business support services, AI functions and user interface. At the same time, the knowledge obtained through the analysis of topics on the chat conversational system can be used efficiently in business.

1. Background
Companies are currently looking to streamline operations and improve productivity, according to the new government policy called work time reform. Meanwhile, the know-how of employees obtained over many years through their work has not been accumulated or utilized as useful knowledge by their respective companies. The costs for maintaining a certain level of services and training of newcomers is a concern.


2. Overview
Smart AI Platform for Businesses has chatbots in the collaboration environment "Shanaing®"*2, which is an NTT Comware secure corporate mobile application. It is a service to provide natural conversations with employees to assist with their business tasks and schedule reminders.
In addition, various AI engines such as NTT Comware's image recognition AI "Deeptector®"*3, and data analysis-type AI performing machine learning, as well as "Communication Engine COTOHA®" are provided or linked efficiently as Service Gateway. Even the data collected through chatbot-based customer support is recognized/analyzed so that the work environment information of employees can be easily collected. It also realizes the functions to perform recommendations in business operations by integrating images and texts.

With the above, the following particular functions are also available:

- Know-how can be extracted from chat conversations to collate as a knowledge database
- Know-how extracted from chat conversations can be used in line with various content such as Office documents
- Assistance can be provided for various positions in business such as representatives, managers or supervisors

The following are the main functions of "Smart AI Platform for Businesses":

(1) Chatbot infrastructure: A chatbot engine connects the enterprise systems, AI and user interface to perform services in orchestration and data exchange. The infrastructure also functions to describe conversations of the chatbot subject to the script language.

(2) User interface connection adapter: A conversation interface with chatbots by connecting user interface such as "Shanaing® TALK"; a business messenger with easy operation and security functions to meet the needs of corporate customers; "Shanaing® BOARD"; the internal knowledge portal; and a general Web browser

(3) Insight engine: A full-text search engine, efficient for various data searches for corporate customers in their internal IT environment such as content search of Office documents and FAQ database to realize an internal Help Desk using chatbots.

(4) Conversation management engine: A function to reduce the number of conversations involved to narrow down the target content over time by learning tips on how to search similar content when searching for content using chatbots. This engine collects the data on the relationships of various content on frequently asked questions and answers as an internal knowledge database.

(5) Relationship estimation engine: A machine learning engine that discovers relationships between data based on the graph theory. The engine contributes to efficient management of structured data such as numerical values and unstructured data such as texts. This function is effective when you need to see trends through integrated analyses of massive and diverse data such as adjustment of supply and demand of materials or products, and market share forecasts for new products going to the market.



[Figure 1. Outline of Smart AI Platform for Businesses]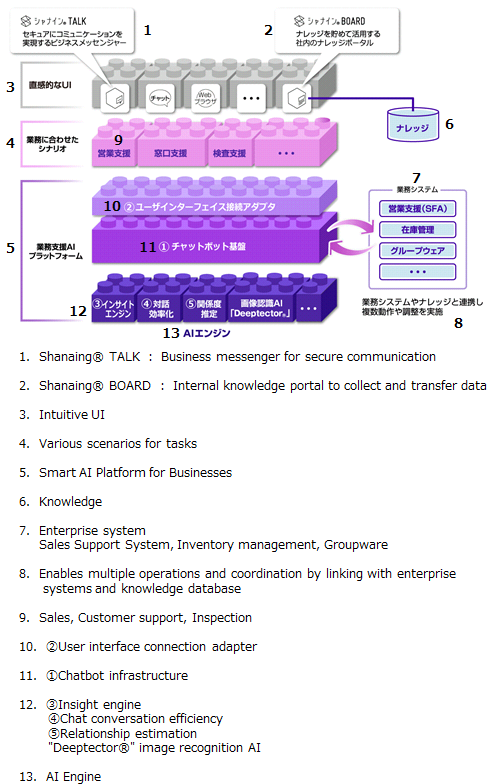 3. Future Scenario
More business assistance services and AI functions on Smart AI Platform for Businesses will be available.
NTT Comware has been working on AI-based solutions for corporate customers such as "Deeptector®". In line with this Smart AI Platform for Businesses, we assigned AI business representatives in the Business Incubation Department as AI specialists in April 2018 to further enrich AI services to improve customers' productivity and create more value in business.

[About AI EXPO]
The exhibition of artificial intelligence; 50,000 visitors expected.
Period: April 4 (Wed) - 6 (Fri), 2018 <3 days>
Venue: Tokyo Big Sight
Organized by: Reed Exhibition Japan Co., Ltd.
Website (http://www.ai-expo.jp/)



[Terminology]