2018.12.10
NTT COMWARE signs a strategic business alliance and invests in
UBiqube Series B for expansion of its orchestration solution
Tokyo, Japan, Dec. 10, 2018 - NTT COMWARE (Tokyo, Japan, President Satoshi Kurishima) agreed to invest and to sign a business alliance agreement with UBiqube Ltd. (Dublin, Ireland, CEO Nabil Souli), the leading vendor of network and security orchestration software solutions.
Background
NTT COMWARE signed a partnership agreement with UBiqube, the leading provider of vendor and domain agnostic orchestration software, to further accelerate it's system integration and process automation capabilities against a backdrop of increasingly diversified ICT landscape fueled by digital transformation, virtualization and heightened security needs.
As the NTT Group is moving forward with its efforts towards building 'Smart World' which starts with the Las Vegas City Smart City, NTT COMWARE is developing Multi-orchestrator by Cognitive Foundation™ which is at the core of this ICT transformation. Multi-orchestrator design derives from NTT COMWARE long standing operational know-how in providing systems to NTT Group OpCos.

Purpose of investment and business alliance
NTT Group's strategic focus on 'Smart World' enablement, is best illustrated by the Las Vegas Smart City project aimed at a massive digitalization of it's public safety management capacity (security, traffic management etc..) and for which NTT COMWARE will integrate the wide variety of devices and systems at play (IoT, Cloud, security, etc..) and automate the related operational processes through a single Multi-Orchestrator, a know how deeply rooted in NTT COMWARE experience with the implementation of NTT Group's Cognitive Foundation™ vision.

Cognitive Foundation™ aims at the deployment of agile and lean ICT solutions, through multivendor and multi-domain integration and process automation. A prime architectural illustration of this approach is the use of a Multi-Orchestrator to manage multiple cloud services and data centers involving several vendors. Multi-Orchestrator engineering requires an advanced orchestration framework for abstraction of device provisioning across a broad domain and vendor spectrum which may span, network devices, security systems, Datacenter technologies, IoT devices and more...

Furthermore, agile process design and tight integration with analytics and ultimately AI technologies is paramount to adapt automated processes to the ever changing functional needs of such complex Smart City endeavors.

NTT COMWARE had established a strategic partnership with UBiqube in late 2017 to develop such a multi orchestrator solution.

The highly strategic nature of the technology, the global potential it represents in a number of emerging market segments, including Smart City, has convinced NTTCOMWARE that a 'deeper' relationship between the companies was needed which materializes now through NTTCOMWARE joining UBiqube's Series B round.

NTTCOMWARE is currently developing Multi-Orchestrator for Las Vegas Smart City with UBiqube and will expand the solution use to other Smart City projects globally as well as to any other market opportunities that may benefit from NTT Group's Cognitive Foundation™ vision.


Contract conclusion
December 2018, subject to UBiqube's shareholders approval.
Messages from the top
Satoshi Kurishima, President of NTT COMWARE comments:
NTT COMWARE will strengthen its relations with UBiqube and expand orchestrator business by leveraging strength of both parties. NTT COMWARE will implement business innovation and operation improvement and contribute to digital transformation for our customers both in and outside of Japan.

Nabil Souli, CEO of UBiqube comments:
We are very honored to welcome NTTCOMWARE as a new shareholder in UBiqube. Our vision that the industry is in dire need for an 'orchestration continuum' to unleash the true potential of digitalization has led NTTCOMWARE, an industry leading integrator to go from partnering to investing. The Smart City project, is a fantastic first incarnation of this vision and we see many more following through this partnership.


Future development
Cognitive Foundation™ is a repeatable technology deployed in Smart City, Smart Plant, Smart Factory and Smart Stadium in Smart World that NTT Group is developing. Multi-orchestrator plays an important role in this. NTT COMWARE can bring more value by promoting Smart World through development and provision of Multi-orchestrator.
In addition, NTT COMWARE will expand Multi-Orchestrator with development and deployment experiences and significantly improve IT infrastructure business operation efficiency for our customers.



About NTT COMWARE
NTT COMWARE is a business integrator that has experience in system development and IT infrastructure provisioning for enterprises, mainly for the NTT Group. NTT COMWARE's wealth of business process knowledge and Information/network technology meets the complex and ever-changing needs of its customers.

About UBiqube
UBiqube is a global software supplier, providing vendor neutral, multi-domain end-to-end network and security orchestration solutions to service providers and large and medium enterprises. Leading the digitalization of the networking industry, UBiqube developed the MSActivator™, a DevOps enabled open framework for the design, automation, and orchestration of services over hybrid communication infrastructures (legacy, SDN/NFV/IoT). UBiqube is headquartered in Dublin, with offices in France, India, UAE, Japan, and Silicon Valley, USA. For more information, visit www.ubiqube.com.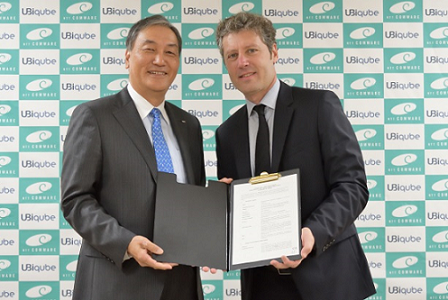 Media Contact

NTT COMWARE
Network & Cloud Division
Service Provider Department
cw_orchestrator@nttcom.co.jp

UBiqube
Silvia Alegria
sap@ubiqube.com