2018.12.11
NTT COMWARE and VeriServe Start Collaboration on System Verification Services
The two companies jointly provide verification services in the entire process of systems development

NTT COMWARE CORPORATION (Head office: Minato-ku, Tokyo, President: Satoshi Kurishima, hereinafter NTT COMWARE) and VeriServe Corporation (Head office: Shinjuku-ku, Tokyo, President: Yoshiyuki Shinbori, hereinafter VeriServe) have agreed to collaborate in "system verification services in the entire process of systems development" in the enterprise architecture domain. The service starts on December 11, 2018.

NTT COMWARE and VeriServe will start not only testing services but also verification of products, documents and development processes throughout systems development by making use of the strengths and viewpoints of each company: NTT COMWARE as a developer having expertise in project management and VeriServe as a specialist of system testing in systems development. Through the collaboration, the two companies aim to build a team of 200 system test experts as well as to achieve sales of three billion JPY in five (5) years by acquiring a large-sized software verification market. Furthermore, we will contribute to the realization of DX (digital transformation), such as accelerating the speed of customers' business operation and enabling them to make investments more aggressively.


"NTT COMWARE and VeriServe's system verification in the process of systems development"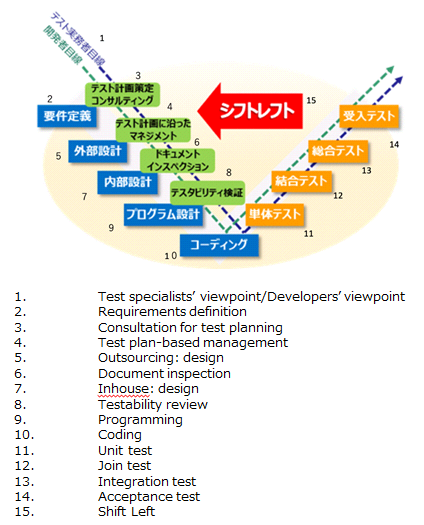 1. Background
With a shortage of IT engineers throughout Japan in recent years, companies face difficulties sufficiently allocating their talented resources to IT-related policymaking that is directly linked to new business development. As one of the solutions to shift such limited number of IT-engineers to business planning, the system verification process is expected to get leaner through outsourcing this area to testing experts for quality assurance.
Although there is a certain demand for system verification, there are few vendors that are capable of providing verification systems with experienced test engineers. Team building has also been a challenge for project management of systems development, particularly for joint projects of multiple companies, since the way of thinking and method of verification are not always consistent among them.

Under such circumstances, NTT COMWARE, with strengths in "project management for large-scale systems" and VeriServe, which has offered verification services for more than 30 years and has strengths in "advanced test skills", have collaborated to provide efficient system verification services to meet the needs of speed and advancement of system verification processes for corporate customers.
2. Outline of Collaboration
NTT COMWARE and VeriServe provide a new system verification service for the entire process of systems development in large-sized projects through a joint team of experienced test engineers of the two companies. The following synergies are expected to accelerate businesses of corporate customers.

1. Outsourcing of system verification process to shift the resources of customers' IT engineers to high-added-value areas
NTT COMWARE and VeriServe, both pursuing high-quality services and have undertaken development and testing of IT systems, will perform system verification and quality analysis as a joint team. Customers can outsource the verification process and have their IT engineers focus on upstream processes such as new business development.

2. Risk management of project/product
NTT COMWARE and VeriServe both have expertise in project management and system testing, respectively. The joint service for system verification enables efficient project management and highly reliable error detection. We will prevent the risk of delays in customers' projects and reduce risks of products being defective after completion to prevent stagnation of business cycles.

3. Promote quality improvement of upstream processes of system development from the viewpoints of developers and testers
NTT COMWARE, which is familiar with points that developers often overlook, and Veriserve, which is devoted to maintaining quality improvement in the testing process, work together to assure and improve the upstream processes of customers and accelerate the speed of systems development to prevent reworking by eliminating defects in design and programming.

The two companies will combine their mutual strengths – project management skills/testing skills – and provide advanced verification services with quality (experienced test engineers) and quantity (large-scale software verification systems) for the future expansion of the system verification business. NTT COMWARE and VeriServe aim to jointly provide Beautiful Testing (*) to make customers' DX possible.

* The definition of Beautiful Testing is a test to enable customers to feel peace of mind and excitement at work to satisfy the following elements.
"Clear": the purpose is clear
"Organization": the test process remains consistent all the way and the deliverables are logical and organized
"Excellent": Theory and sensibility merge, and defects are pinpointed

3. Goal of Collaboration
Sales of 3 billion JPY for the joint service in five (5) years.
4. Company Profile
NTT COMWARE
Company name: NTT COMWARE CORPORATION
Representative: Satoshi Kurishima, President and Representative Director
Address: NTT Shinagawa TWINS Annex Building, 1-9-1 Konan, Minato-ku, Tokyo
Capital: 20 billion JPY
Date of establishment: September 1, 1997
Number of employees: 6,315 (as of the end of March 2018)
Main business:
- Development, manufacture, operation and maintenance of telecommunication systems and related software or various devices and its services
- Sales and rental of telecommunication systems and related software, and various equipment
- Data processing services and data services


VeriServe
Company name: VeriServe Corporation
Representative: Yoshiyuki Shinbori, President
Address: Nishi-Shinjuku Mitsui Building 14F, 6-24-1 Nishi-Shinjuku, Shinjuku-ku, Tokyo
Capital: 792 million JPY
Date of establishment: July 24, 2001
Number of employees: 756 (as of the end of March 2018)
Main business:
- Product validation services
- Security verification services
- Other services


All names of products, companies and services are trademarks or registered trademarks of each company.