2019.06.10
NTT COMWARE Starts Japan's First Cloud Service "SmartCloud(R) Duo" on First Red Hat OpenShift Container Platform
NTT COMWARE CORPORATION (Head office: Minato-ku, Tokyo; President: Satoshi Kurishima, hereinafter NTT COMWARE) starts the new service of SmartCloud(R) Duo, a container platform for seamless operation of DevOps Cycle from system development to its commercial use on June 10, 2019.
1. Background
While "DevaaS(R) 2.0", released in November 2017, has been used by many developers as a container-based integrated system development environment that promotes enterprise DevOps, "SmartCloud(R) Duo" is released as a new commercial environment, which can be seamlessly linked with the system development environment.
As the service is realized in collaboration between RED HAT and NTT COMWARE, "SmartCloud(R) Duo" automatically deploys Red Hat OpenShift by entering the minimum required information on the Web portal. This enables customers to immediately use container orchestration functions required for container platform operation, such as replication of containerized applications, auto-scaling, and resource quotas. Customers will be able to further promote DevOps and improve their corporate competitiveness by using "SmartCloud(R) Duo" as a cloud-native application management platform.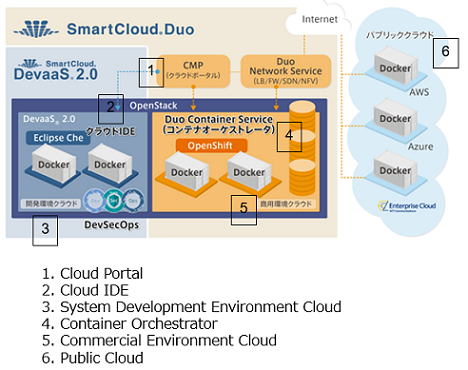 Figure 1. Overview of SmartCloud(R) Duo
2. Outline
The features of "SmartCloud(R) Duo" are as follows:

(1) Cloud Platform using OpenStack
"SmartCloud(R)Duo" is a cloud service for commercial environments that utilizes OpenStack know-how adopted in the system development environment cloud "DevaaS(R) 2.0". The platform includes a variety of OpenStack functions such as Nova and Neutron, as well as a series of functions required for cloud-native apps operation such as virtual firewalls and virtual load balancers that enable Internet connection. These functions can be built easily from a Web portal.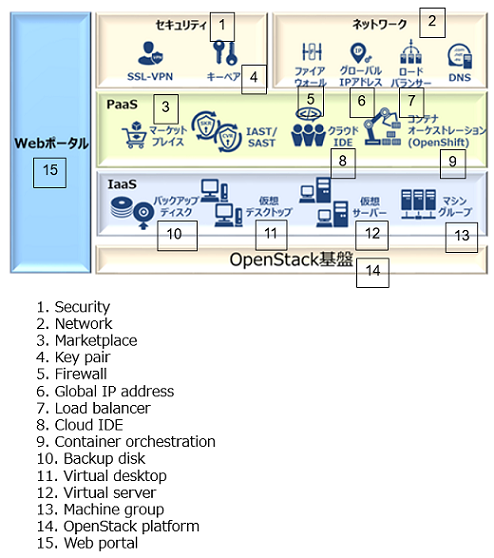 Figure 2. SmartCloud(R) Duo Menu



(2) Container orchestration environment by Red Hat OpenShift
"SmartCloudiRjDuo" employs Red Hat's Red Hat OpenShift, a container orchestration platform that comprehensively supports enterprise requirements. An integrated environment of container orchestration is automatically provided including container registries, load balancers and a peripheral environment such as DNS. This platform enables customers to use the container orchestration environment on demand at a low cost for efficient container management and operation. It also realizes a total solution to integrate system development to commercial environments to accelerate digital formation.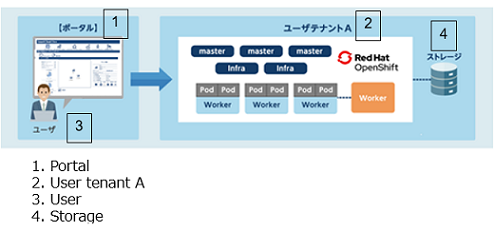 Figure 3. Overview of the function: container orchestration



(3) Internet connection and secure authentication to access
This service enables customers to instantly release an application newly developed to the Internet. The virtual server can be connected to the Internet and released as a commercial service environment with a simple operation on the Web portal. In addition, developers and operators may use SSL-VPN to securely access development and commercial environments.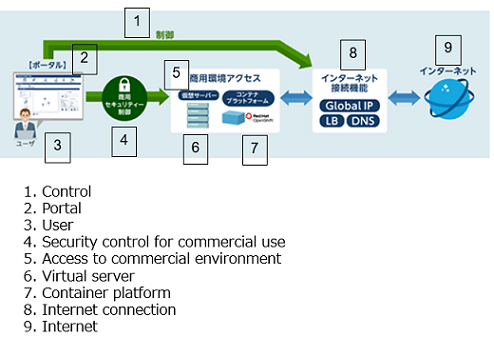 Figure 4. Internet connection image
3. Date of Service Start
June 10, 2019 (Mon)


4. Message
Asesh Badani, Senior Vice President, Cloud Platforms, Red Hat
"With the Red Hat OpenStack Platform's extensibility combined with Red Hat, corporate users obtain agility, flexibility and stability to respond to business transformation by leveraging cloud-native technologies with Red Hat OpenStack Platform with high scalability and RedHat OpenShift, the industry's most comprehensive enterprise Kubernetes platform. We are pleased to work with NTT COMWARE to adopt OpenShift on the large and scalable IaaS of Red Hat as the infrastructure of SmartCloud(R) Duo. This collaboration will allow customers to rapidly develop, deploy and manage a hybrid cloud application on a cloud environment with greater consistency."


5. Future Scenario
NTT COMWARE provides "SmartCloud(R) Duo" as a new cloud service to promote corporate DevOps, anticipating sales of two billion JPY by fiscal 2021. Furthermore, the product lineup will be increased to contribute widely to digital transformation of enterprises. The plan includes further enhancement of CI/CD tools, the security tool to realize DevSecOps, and support multi-cloud environments by linking with other companies' clouds.


* NTT COMWARE's "SmartCloud(R) Duo" will be showcased at Interop Tokyo 2019 from June 12 to 14, 2019.
*"SmartCloud", "SmartCloud" logo, "DevaaS", "DataSkywalker" are registered trademarks of NTT COMWARE CORPORATION in Japan.
* Enterprise Cloud and Enterprise Cloud logo are registered trademarks of NTT Communications Corporation.
* Azure is a registered trademark or trademark of Microsoft Corporation in the United States and other countries.
* Red Hat and OpenShift are trademarks of Red Hat, Inc. registered in the United States and other countries. The OpenStack word mark is either a registered trademark/service mark or trademark/service mark of the OpenStack Foundation in the United States and other countries, and is used with the permission of the OpenStack Foundation. Red Hat is not part of the OpenStack Foundation or the OpenStack community, nor has it been certified or funded.
* AWS is a registered trademark or trademark of Amazon.com, Inc. or its affiliated companies in the United States and/or other countries.
* Docker is a trademark or registered trademark of Docker, Inc. in the United States and other countries.
* Other company names, product names and service names listed are trademarks or registered trademarks of their respective owners.