2019.11.05
NTT COMWARE Cloud Fulfillment Services Start to Support Business Development of Corporate Customers
-Automating operations from application to billing in various businesses-
NTT COMWARE CORPORATION (Head office: Minato-ku, Tokyo, President: Satoshi Kurishima, hereinafter NTT COMWARE) launches sales of Cloud Fulfillment*1 service on November 5, 2019. The series of functions of fulfillment services from acceptance of application to the start of service enables users to reduce the lead time from planning to start of their new business and make its operation efficient. Furthermore, NTT COMWARE'S "Smart Billing(R)", which has been in commercial use, can be combined to apply to various business models such as flat-rate subscription models or B2B2X*2 businesses to automate operations from acceptance of application of the services to billing.
The Cloud Fulfillment service will play a key role in driving of digital transformation in NTT Group's businesses nationwide.

* 1) Fulfillment: Services related to service management, customer management, order reception/management as a whole.
* 2) B2B2X: A business that supports and promotes businesses for customers of other companies. It refers to "B" as the company providing the service and "X" as the customer including individuals, corporations, employees, and government offices.

1. Background
Industries are facing alteration of existing business models with new digital technologies. Under these circumstances, companies explore opportunities to develop a new business to increase revenues in the new field as well as enhancing/maintaining their competitiveness in their business.
For instance, as fulfillment-related business processes between collaborative partners and service providers who develop B2B2X business, or between service providers and customers are likely to be complex, it tends to be time-consuming if they try to develop IT systems by themselves to improve its operational efficiency.
NTT COMWARE optimizes fulfillment business processes/data models by leveraging its know-how and experiences of system development/maintenance/operation that supports the vast resources of business processes within the NTT Group including telephone, data communications, and mobile communications. We also provide a cloud service to support the corporate customers in their operations to improve efficiencies in starting new businesses.


2. Features of this service
(1) Compatible with new business models such as the B2B2X model
In the B2B2X model, it is necessary to manage various business processes related to order fulfillment that occur between: 1. collaborative partners and service providers who develop the business of the B2B2X model, and 2. service providers and customers. This service can be a one-stop solution to manage the series of transactions among all the stakeholders such as 1 and 2 by giving each tenant a role (e.g. merchandise wholesaler, sales agent) on their own. This allows companies to easily and flexibly start B2B2X model businesses and marketplaces.







Figure. Overview of B2B2X Model



(2) Provide functions required for fulfillment operations as a cloud service
This service is to provide a series of functions related to fulfillment such as service management, customer management and order reception/management on a cloud environment. This eliminates the need for companies to prepare systems on their own, which enables them to start a new business in a short period of time at a low cost. In addition, it supports not only selling businesses that sell products and services but also flat-rate subscription businesses, which can be combined with NTT COMWARE's "Smart Billing(R)" the billing platform. A series of operations including billing and collection can be implemented by combining such services.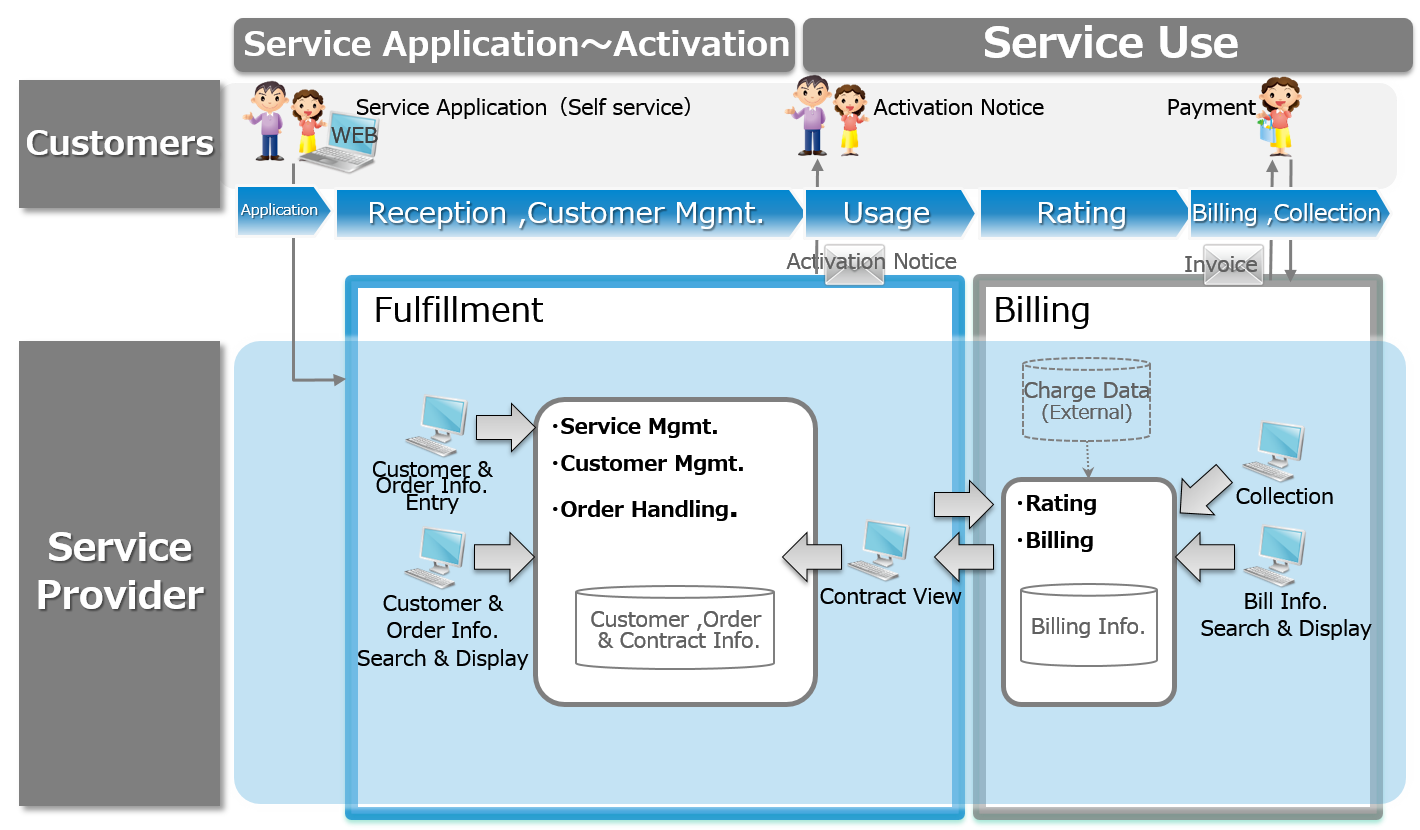 Figure. "Cloud-based Fulfillment Service"



(3) Realization of flexibility and expandability with APIs
It is flexible to link with existing systems such as CRM and ERP that has been in use by the client or other cloud services by using the APIs provided.

(4) Know-how and experiences in the telecom industry
This service is based on the BearingPoint//Beyond package software "Infonova(R)", which has been the TM Forum conformant and highly evaluated by various research companies. This is a cloud service with NTT COMWARE's cloud computing technologies and its know-how and experiences in fulfillment services.


3. Future scenario
This service is available for NTT Group companies, then will be available for companies outside of the group, aiming to achieve annual sales of one (1) billion JPY by 2025.
We will continue to provide more services in variety and strengthen the service functions in the future and contribute to efficiency and further enhancement of business processes through digital transformation as well as help corporate customers easily start new services by providing the unified service linked with third parties services and AI and Bot-based functions for their further business development.


* "B2B2X" is a registered trademark of Nippon Telegraph and Telephone Corporation.
* "Smart Billing" is a registered trademark of NTT COMWARE CORPORATION.
* "Infonova" is a registered trademark of BearingPoint//Beyond.
* Other company names and product names may be trademarks or registered trademarks of each company.