2020.06.04
Supporting the First Steps of Telework Introduction at Small and Medium Sized Enterprises in the Age of the CoronavirusNTT COMWARE to Offer Cloud-based Work Management Service "follow(R)" Free of Charge
NTT COMWARE CORPORATION (Head office: Minato-ku, Tokyo; President: Satoshi Kurishima; hereinafter NTT COMWARE) has been offering the cloud-based work management service "follow(R)" (hereinafter "follow") to support various working patterns and ways of working regardless of time or place. Now, to support companies faced with an accelerated schedule to accommodate work styles that have rapidly changed to stop the spread of COVID-19 coronavirus infections and overcome the virus, NTT COMWARE is pleased to announce that it will provide "follow" free of charge for up to six months (six months including the month in which usage starts) to customers who apply between June 4 and September 30, 2020.(See the overview of conditions as attached.)

"follow" is well regarded by small and large corporate customers alike because the service can be quickly started and comes at an affordable price. To date, around 400 companies including those in the manufacturing and logistics industries and NTT Group companies have adopted the service.

In this age of a "new normal," there is an even greater need to develop environments that support working from home, telework, as well as a wide range of work styles that are not dependent on time or place such as staggered working start times and flex time. However, these changes also come with problems, such as the difficulty in accurately monitoring work status amid increasingly diverse working patterns and work styles. "follow" supports a wide range of work styles including working from home, split working and flex time, and as it allows work status to be submitted from anywhere with access to the Internet, it allows for accurate work management of employees working from home or engaged in telework. To support the speedy introduction of work management systems by small-to-medium-sized enterprises facing myriad challenges implementing measures to prevent coronavirus infections, NTT COMWARE will provide its cloud-based work management service "follow" free of charge.

Additionally, in anticipation of telework becoming normalized in the future and to support the promotion of telework at even more companies, "follow" will progressively release features integrated with online meeting and communication tools as a remote work solution.

See the overview of "follow" as attached.




Attachment



Overview of "follow"


1. Outline
"follow" provides a series of functions such as "work management, vacation/leave management, man-hour management, and travel expense management" which supports corporate labor management tasks in a cloud environment. Work status can be submitted or approved from anywhere with Internet access, whether from a PC or even a smartphone or tablet device.

Features

(1)
Smooth process to service launch
As "follow" is a cloud-based service, no dedicated equipment needs to be purchased, and the system can be utilized as-is from an available PC, tablet or smartphone.Once the environment has been set up, the service can be used from that same day. NTT COMWARE's help desk is available to field any inquiries from customers after they start using the service.
(2)
Supporting all manner of work patterns
In addition to fixed working hours, the service supports various work patterns including flex time, staggered start times, split work, discretionary work systems and shift work.
(3)
Results can be monitored by registering task details from anywhere.
The details of tasks can be registered together with submitted working hours to enable visualization of the person-hours taken for each task. Logs of PC start-up and shutdown times as well as positional information from smartphones can also be obtained.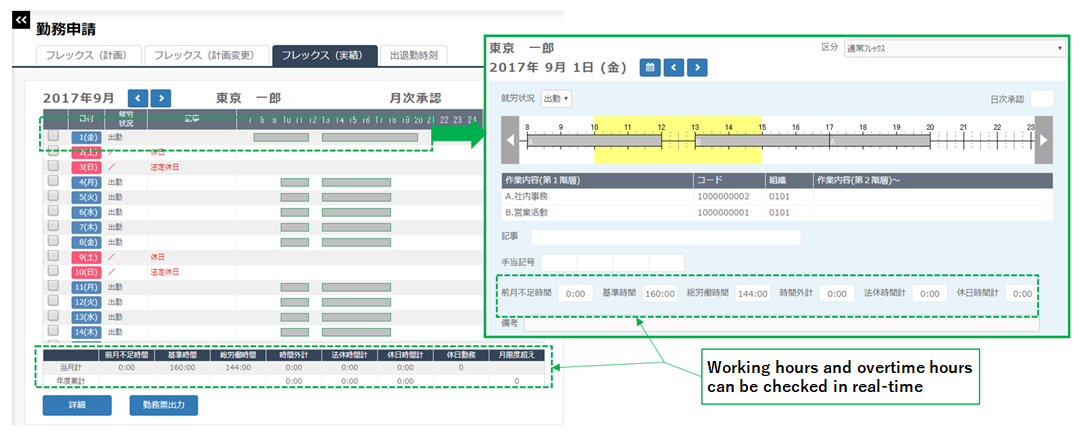 Conceptual image of the "follow" screen to submit work details for approval
2. Usage Scenarios
(1)
A customer wants to accurately manage employee work even when they work from home or engage in telework
When employees work from home or engage in telework, it tends to be difficult to monitor their work status. With "follow," evidence of working hours can be obtained from PC start-up and shutdown time logs after having workers submit their working hours and planned overcome to a supervisor in advance. By checking for variances in the details submitted in advance and the actual results, companies can adjust the working hours and overtime hours of employees. In addition, as the operation of employees can be managed by using the person-hour management feature, the analysis of launched tasks leads to higher productivity and cost management.
(2)
A customer wants to implement work management of staggered start times and flex time efficiently
Complex work arrangements can be registered as patterns to enable easy management. A wide range of work patterns from split work to discretionary work systems are supported, enabling the centralized management of many different work styles. This allows customers to select the work style that is best for each employee.

3. Price
Initial fee: noneMonthly fee: 200 yen / ID (excluding tax)


4. Outline of the Service Provided Free of Charge
"follow" will be provided free of charge for up to six months, limited to when an application for use has been made by September 30, 2020.


Applicable Services
All features of "follow" SaaS edition / Smart Touch edition
(Includes the person-hour management option and travel expense management option)
Eligibility
Companies starting new "follow" contracts*7
Details
Up to 500 IDs per company, provided free of charge for up to six months*1
Applicable Period
To the last day of the sixth month, counting from the month in which usage starts
Application Acceptance Period
June 4, 2020 to September 30, 2020
Application Procedures
Enter the necessary information after following the "Application Web Page" link on the main product website.
Example of Free Usage Period
*1
Example) Whether the usage start date is July 1, 2020 or July 31, 2020, the free usage period will be until December 31, 2020.
*2
During the free usage period, the customer can cancel without penalty by applying for cancellation.
*3
If a customer has not applied to cancel the service by the last day of the free usage period, usage from the following day will automatically commence under the paid option. Also note that continuing to use the service will result in a minimum usage period of one year.
If the service is canceled during the minimum usage period, the usage fees for the remainder of the minimum usage period will be billed in a lump sum.
*4
During the free usage period, additions to the number of IDs (provided the total is less than 500 per company) or the addition of optional services to not incur charges.
*5
As the commercial environment is provided from the start of the free usage period, if a customer continues to use the service after the free usage period has ended, their data does not need to be migrated to a different system.
*6
Infrastructure such as the terminals and Internet environment needed to use the service should be arranged by the customer. Also note that use of the service may incur separate network communication charges.
*7
If the same company already has a "follow" usage contract, the company will not be eligible for the offer of free usage.

5. Product Website
https://www.nttcom.co.jp/follow_s/follow_cp.html


* "follow" and "follow Smart Touch" are registered trademarks of NTT COMWARE CORPORATION.
* Other company names, product names and service names listed herein are the trademarks or registered trademarks of their respective companies.