2020.10.20
NTT COMWARE Launches Functionality to Link the Subscription Management Platform Smart Billing®and the IoT Platform Things Cloud®:
Automating the Handling of Subscription Fees for Things
NTT COMWARE CORPORATION (Head office: Minato-ku, Tokyo; President: Satoshi Kurishima, hereinafter NTT COMWARE) has launched a new functionality for Smart Billing®, a management platform that supports subscription businesses, that allows it to be linked with Things Cloud®, an IoT platform provided by NTT COMMUNICATIONS CORPORATION (Head office: Chiyoda-ku, Tokyo; President: Toru Maruoka; hereinafter NTT COMMUNICATIONS), on October 20, 2020.

Linking Things Cloud and Smart Billing makes it possible to seamlessly use measurement data obtained from IoT devices for payments. With this, businesses providing subscription services using Smart Billing can easily provide flexible pricing structures that combine pay-as-you-go fee plans for hardware subscription-model services, for which it was previously difficult to offer services according to a pricing structure based on usage performance.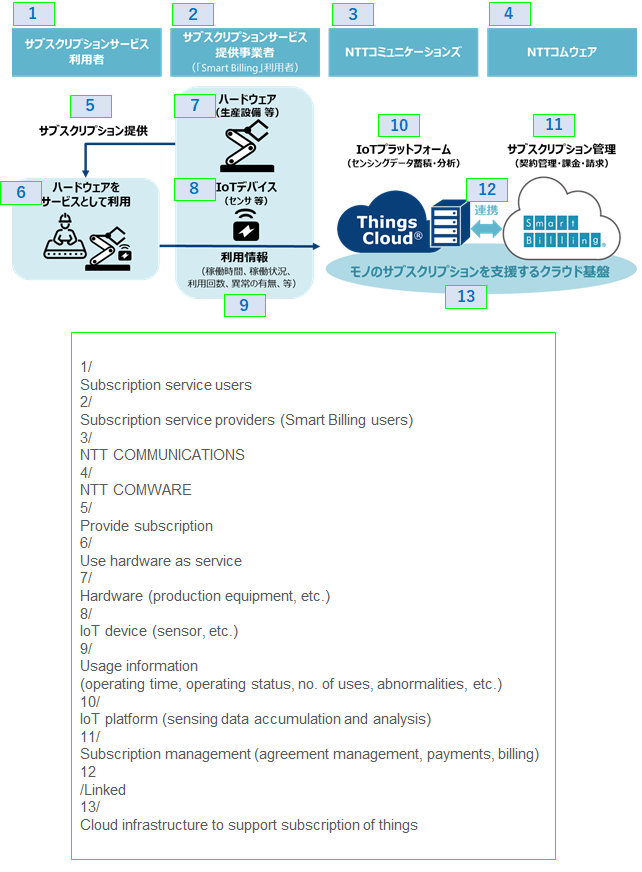 As the market's sense of value is changing from "owning" to "using," we are seeing a continued rise in businesses offering subscription-model services. This market is spreading from software and digital contents to manufacturing and other business categories that deal in hardware. Part of the reason for this is that we are now able to trace customer usage trends using IoT.

Smart Billing is a platform that supports businesses that provide subscription services by offering functionality that serves to make various back-office tasks more efficient, including product management, customer and agreement management, payments, billing and collection, accounting, and analysis.
Now, the linking of Things Cloud and Smart Billing makes it possible to unitedly manage the IoT device and measurement data in Things Cloud and the subscription agreement information in Smart Billing. This makes it possible to see measurement data obtained from IoT devices using Things Cloud while also automating all processes for handling subscription payments by automatically linking the obtained measurement data with the Smart Billing payment functionality as usage performance and calculating the fees. Moreover, since both Things Cloud and Smart Billing are offered as cloud services. Consequently, there is no need for subscription service providers to create dedicated systems to obtain the usage performance, thus allowing them to set up their businesses quickly.

NTT COMWARE will continue to link with the services of other companies inside and outside the NTT GROUP, thereby developing Smart Billing as a platform for supporting subscription businesses and expand sales to subscription service providers in a broader range of business types and industries.

*"Smart Billing" is a registered trademark of NTT COMWARE CORPORATION.
*Things Cloud is a registered trademark of NTT COMMUNICATIONS CORPORATION.
*Other names of companies, products, and services are trademarks or registered trademarks of their respective owners.