2019.07.10
NTT COMWARE Starts a New Service for Smart Billing(R), a Payment Management Platform to Support Subscription Models
- Automation of monthly billing and collection tasks to increase business efficiencies -
NTT COMWARE CORPORATION (Head office: Minato-ku, Tokyo; President: Satoshi Kurishima, hereinafter NTT COMWARE) launched a new service on July 10, 2019 with Smart Billing(R), a management platform that supports subscription businesses.
This service allows the service provider using "Smart Billing(R)" to provide new means of payment to their users such as by direct debit, bills sent through postal mails and credit card to service users in addition to money transfers though banks were conventionally available.
1. Background
While "Smart Billing(R)" has been available since April 2019 as a data management platform to promote usage of the service providers of subscription businesses, the new function of payment settlement has now been released to improve their business process with the way of automation and efficiencies.

Many of the subscription businesses have been facing the issue of human related costs to bill and collect monthly fees, which should be expanding with the increase of cases. In addition, as payment methods increase, the number of contacts to share information would increase and make the process more complicated. Under the circumstances, the new service "Smart Billing(R)" facilitates the shift for automation of a series of tasks from billing to collection in an automated process, which facilitates to reduce regular costs. Service providers are also able to provide more convenient services to their users by providing new ways of payment settlement, which should eventually contribute to improvement of their LTV (customer lifetime value).



2. Overview
"Smart Billing(R)" provides a series of functions such as "product management, contract management, billing/collection, accounting and analysis" to support the subscription business in a cloud environment.
Although billing and collection were conventionally processed by money transfers to a bank account shown on a bill from "Smart Billing(R)", the integrated payment settlement function automatically sends the data on the bills created in the billing process to the payment service agent to collect fees from service users paid at banks or convenience stores. After collection of the fees, the payment data is received from the payment settlement service agent to automatically update the payment status.
The settlement service supports "Collection Service" provided by NTT FINANCE CORPORATION (Head office: Minato-ku, Tokyo; President: Yoshikiyo Sakai; hereinafter NTT FINANCE) as well as NTT COMWARE's "EasyDo(R)". All the payment settlement processes are conducted at the payment settlement service side, including money transfers through banks, payment slips to pay at banks or convenience stores or credit checks of credit cards and reverse entries.


Payment method using "Smart Billing(R)"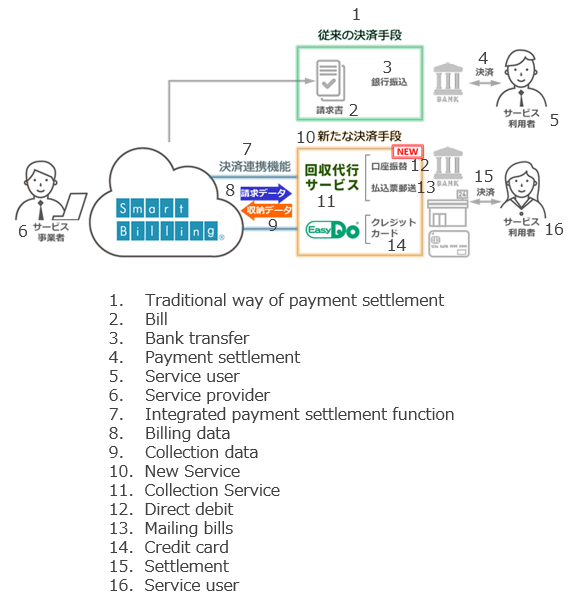 Payment options available for "Smart Billing(R)"

Current
/New
Payment
settlement
Description
Service to
integrate
Service
provider
Current
Bank transfer
Service fees shown in the bill are collected through wire transfers of the money to the bank account from the service user.
-
-
New
Direct debit
The payment is settled automatically at a bank account on the date specified.
Collection Service
NTT FINANCE
New
Mailing bills
A bill with a bar code and OCR is sent to the service user to pay at convenience stores or banks.
New
Credit card
Credit card payment services with major international brands in compliance with PCI DSS are available for automatic credit check, reverse entries and collection of the fees.
EasyDo(R)
NTT COMWARE


As Smart Billing(R) has these payment settlement function as default, the service providers are able to maintain an efficient system and payment solution to manage their subscription businesses in a prompt and inexpensive manner.
NTT COMWARE will promote the service as a new way of payment settlement method to service providers that require more efficient subscription services, such as the consumer business industries, which would need to process a number of bills.

[Smart Billing(R) Product Website]
https://www.nttcom.co.jp/smartbilling/

* "Smart Billing" is a registered trademark of NTT COMWARE CORPORATION.
* "EasyDo" and "EasyDo logo" are registered trademarks of NTT COMWARE CORPORATION.
* Other company names and product names may be trademarks or registered trademarks of their respective owners.