Establish a communication-rich society with ICT.
-Be a business integrator creating the future via collaborative innovation.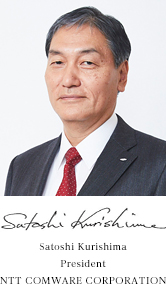 Remarkable things have been happening in the development of information and communication technology (ICT) in recent years. Digital technologies such as AI, AR/VR, and robotics are appearing all around us. The arrival of this kind of digital society is bringing major changes to our social environment and to the ways that we work. In order to thrive in the drastically changing business environment, it has become critical to engage in collaborative innovation, acting with agility to create business in an open setting.

NTT COMWARE has long utilized ICT systems to support Japanís communication infrastructure while it operates 24 hours a day, 365 days a year. As an expert group providing a safe and secure infrastructure to society, we have continued to innovate, taking pride in the fact that we are an organization in which each employee is a professional.

In todayís rapidly changing business environment, as a true business partner to our clients, NTT COMWARE will, of course, utilize our accumulated technology, experience, and quality to support the business of those clients. Furthermore, by spurring digital innovation via client collaboration, we will also endeavor to contribute to the creation of new business.

We at NTT COMWARE are taking on the challenge of creating a communication-rich society by collaborating with the client to create business value.